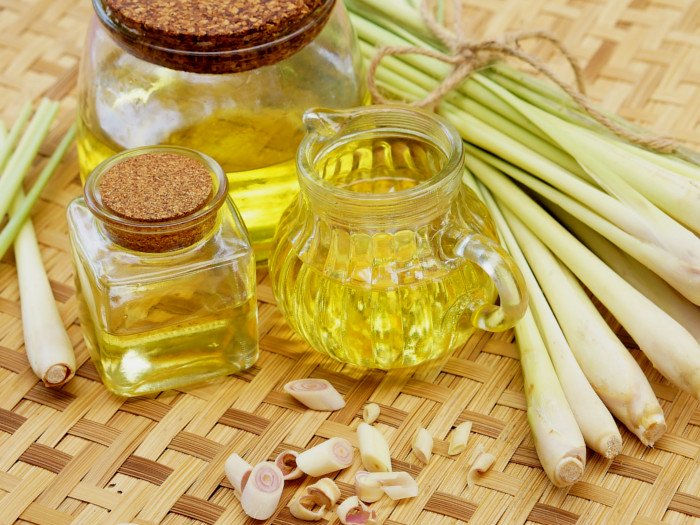 The Benefits of Lemongrass Oil
One of the Essential Oils that is part of our daily use is Lemongrass Oil.  It's citrusy, refreshing, and relaxing.  It's also one of our biggest sellers at local markets when we sell direct to the public.
Why Using Lemongrass Essential Oil Benefits You Medically
reviewed by Debra Rose Wilson, PhD, MSN, RN, IBCLC, AHN-BC, CHT on October 12, 2017
Lemongrass is a tropical, grassy plant used in cooking and herbal medicine. Extracted from the leaves and stalks of the lemongrass plant, lemongrass essential oil has a powerful, citrus scent. It's often found in soaps and other personal care products. Although lemongrass has traditionally been used to treat digestive problems and high blood pressure, the essential oil has many other potential health benefits. For example, it's becoming a popular tool in aromatherapy to help relieve stress, anxiety, and depression. Use lemongrass oil to improve your well-being, including Anti-Bacterial Antifungal Anti-inflammatory Antioxidant Stomach pain and nausea, Diarrhea, Cholesterol, Blood sugar, Bone pain, Stress and anxiety Headaches. It has antibacterial properties. Lemongrass is used as a natural remedy to heal wounds and help prevent infections.  Research from 2010 found lemongrass essential oil was effective against a variety of drug-resistant bacteria including those that cause skin infections, pneumonia, blood infections, serious intestinal infections.  It has antifungal properties.  Fungi are organisms like yeast and mold. According to an older study from 1996, lemongrass oil was an effective deterrent against four types of fungi. One type causes athlete's foot, ringworm, and jock itch. Researchers found that, to be effective, at least 2.5 percent of the solution must be lemongrass oil. It has anti-inflammatory properties.  Chronic inflammation is thought to cause many health problems. These include arthritis, cardiovascular disease, and even cancer. Lemongrass contains citral, an anti-inflammatory compound.  According to a 2014 study on animals, oral lemongrass essential oil showed powerful anti-inflammatory abilities on mice with carrageenan induced paw edema. The oil also demonstrated anti-inflammatory effects when applied topically on mice with ear edema. It has antioxidant properties.  Antioxidants help your body fight off free radicals that damage cells. Research has shown that lemongrass essential oil helps hunt free radicals.  According to a 2011 study, lemongrass oil mouthwash showed strong antioxidant abilities. Researchers suggest it's a potential complementary therapy for non-surgical dental procedures and gingivitis, stomach pain and nausea. It may help prevent gastric ulcers.  Lemongrass is used as a folk remedy for a number of digestive problems, ranging from stomachaches to gastric ulcers. According to a 2012 study on mice, lemongrass essential oil helped prevent gastric ulcers, a common cause of stomach pain.Lemongrass is also a common ingredient in herbal teas and supplements. Although most herbal products use dried lemongrass leaves, using the essential oil for aromatherapy may provide similar benefits. It may help ease diarrhea.  Diarrhea is often just a bother, but it can also cause dehydration. Over-the-counter diarrhea remedies can come with unpleasant side effects — like constipation — leading some people to turn to natural remedies.  According to a 2006 study, lemongrass may help slow diarrhea. The study showed that the oil reduced fecal output in mice with castor oil-induced diarrhea, possibly by slowing intestinal motility. Lemongrass is traditionally used to treat high cholesterol and manage heart disease. A 2007 study helps support its use for those conditions. The study found lemongrass oil significantly reduced cholesterol in rats who had been fed a high cholesterol diet for 14 days. The positive reaction was dose-dependent, which means that its effects changed when the dose was changed. It may help regulate blood sugar and lipids.  Lemongrass oil may help reduce blood sugar  according to a 2007 study on rats. For the study, the rats were treated with a daily oral dose of 125 to 500 milligrams (mg) of lemongrass oil for 42 days.Results showed lemongrass oil lowered blood sugar levels. It also changed lipid parameters while increasing so-called good cholesterol levels (HDL). It may act as a pain reliever.  The citral in lemongrass essential oil may help ease pain as it relieves inflammation. According to a 2017 study on people with rheumatoid arthritis, topical lemongrass oil decreased their arthritis pain. On average, pain levels were gradually reduced from 80 to 50 percent within 30 days. It may help relieve stress and anxiety.  High blood pressure is a common side effect of stress. Many studies have shown that aromatherapy eases stress and anxiety. Combining aromatherapy with massage may bring greater benefits.
A 2015 study evaluated the effects of lemongrass and sweet almond massage oil during massage. Study participants who received a massage using the oil once a week for three weeks had lower diastolic blood pressure than those in the control group. Systolic blood pressure and pulse rate weren't affected. It may help relieve headaches and migraines.  According to researchers in Australia, native Australian lemongrass may relieve pain caused by headaches and migraines. The researchers believe that a compound in lemongrass called eugenol has similar abilities to aspirin.  Eugenol is thought to prevent blood platelets from clumping together. It also releases serotonin. Serotonin is a hormone that regulates mood, sleep, appetite, and cognitive functions.
Most scientific research on lemongrass essential oil has been done on animals or in vitro — not on humans. As a result, there's no standardized dose to treat any condition. It's unclear if animal doses would have the same effects on humans.
To use lemongrass in aromatherapy, add up to 12 drops of essential oil to 1 teaspoon carrier oil such as coconut oil, sweet almond oil, or jojoba oil. Mix into a warm bath or massage into your skin. Never apply essential oils directly to your skin.</p> <p>You can also inhale lemongrass oil directly. Add a few drops to a cotton ball or handkerchief and breathe in the aroma. Some people massage the diluted essential oil into their temples to help relieve headaches.
Remember that essential oils aren't regulated by the U. S. Food and Drug Administration (FDA). It's hard to know for sure if you're buying a pure product, so you should only purchase from manufacturers you trust. Lemongrass essential oil is highly concentrated. Its side effects aren't well-studied. In some people, they may be stronger than the side effects of the lemongrass plant.  Lemongrass may cause an allergic reaction or skin irritation when used topically. Other reported side effects of oral lemongrass include: dizziness, drowsiness, increased appetite, increased urination.  Essential oils may be toxic when ingested. You shouldn't ingest lemongrass essential oil.  Lemongrass, in its plant-form, is generally safe to use in food and beverages. Higher amounts may increase your risk of developing side effects.  You should also talk to your doctor before use if you have diabetes or low blood sugar, have a respiratory condition, such as asthma, have liver disease, are undergoing chemotherapy, are pregnant, are breastfeeding.